Brooklyn Bus Accident Lawyers
Call Today to Put Decades of Experience on Your Side
Millions of people in New York City use the public transportation system every day, including the MTA bus system. If you have been injured in a bus accident, you may be entitled to file a personal injury claim to compensate you for your pain and suffering.
The Brooklyn bus accident lawyers at Belushin Law Firm are experienced in handling all types of personal injury claims and can assist you with your case. Since 2002, our legal team has recovered millions of dollars for our clients.
New York Bus Accident Statistics
The traffic congestion and the high number of buses in New York make accidents an unfortunately common occurrence in the city. Bus accidents in New York most often involve public buses and school buses.
Here are some statistics about bus accidents in New York:
According to the New York Post, "MTA [Metropolitan Transportation Authority] buses racked up at least 21,823 crashes, collisions, and other mishaps over 31 months beginning in 2015 — an average of 23 per day."
MTA accidents from 2015 to 2018 resulted in approximately 2.7 injuries per day, or 2,520 total injury victims, in addition to at least 14 deaths.
"School buses were involved in at least 180 accidents," from 2015 to 2018.
Common Types of Bus Accidents
Buses are used for a multitude of purposes, both to transfer passengers and cargo. There are a variety of different types of bus accidents, each with their own liable parties and methods for recovering compensation for resulting injuries.
The most common types of bus accidents include:
Public transportation bus accidents — A public bus accident can injure a number of passengers, and other drivers. The city and/or bus company could be liable for collision damages, in addition to the driver.
School bus accidents — In a school bus accident case, multiple different parties could be liable for the resulting damages. The school is responsible for hiring competent drivers and monitoring their behavior, so any oversight in those responsibilities could be evidence of the school's liability. If it is a public school bus, it is possible that the school district or municipality could be liable too.
Cargo/freight bus accidents — A cargo bus accident won't result in any passenger injuries, but can cause harm to other drivers. Buses that are carrying toxic chemicals, heavy equipment, or other dangerous cargo can cause additional damage.
In these types of bus accident cases, it is possible that victims can be either passengers, or people who are driving in their own vehicle and collide with a bus. All victims of bus accidents may qualify for compensation, but people who are driving may be able to file a claim with their own insurance company in addition to pursuing compensation through the bus company.
Common Causes of Bus Accidents in New York
In addition, sometimes pedestrians, bicyclists, and other vehicles are struck by an MTA bus. If you have been injured in any of these situations due to a bus driver's negligence, you are entitled to file a claim to compensate you for your pain and suffering.
Bus Accident Injuries Occur for Many Different Reasons, Including the Following:
Buses strike another vehicle, particularly another bus
They hit a stationary object
Reckless driving or poor roads, causing passengers to be thrown around, even at low speeds
Bus drivers may injure passengers who are trying to board or exit the bus if they are not paying attention in operating the doors
Pedestrians, cyclists or people in cars can also be the victims of a bus accident
Proving the cause of an accident is critical to proving liability. If you've been seriously injured in a bus accident, get the legal help you need by contacting an experienced attorney.
Who is Liable in a Bus Accident?
There isn't a one-size-fits-all answer to this question because each accident is different. Determining who is responsible for an injury is critical to recovering damages. In New York, there are a number of potential defendants who could be held responsible for a bus accident, including: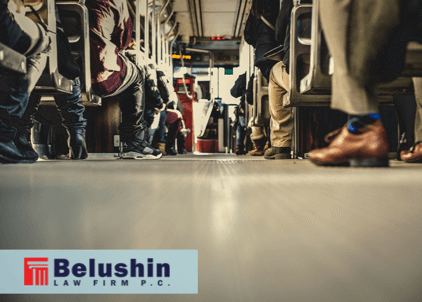 Bus driver
Other drivers
Maintenance companies
Manufacturers
Management companies
City and state governments
As you can see, there are a number of complexes factors that go into a bus injury claim, but with the help of an experienced New York bus accident attorney, you can ensure that you recover maximum compensation.
Responsibility of the Bus Driver
Bus drivers have a responsibility to their passengers and other drivers, cyclists, and pedestrians. They are required to operate the bus in a careful and cautious manner, without putting anyone's safety at risk.
There have been cases of bus drivers being distracted or intoxicated or using excessive speed to try to meet their schedule. The MTA is responsible for their actions and is required to compensate you if their employees acted negligently.
Filing a Bus Accident Claim
When filing a bus accident claim, there are many different types of evidence available that can support your case. Buses are almost always owned and operated by a public entity, so bus accident injury victims (and their legal teams) can access many different records to exhibit negligence.
Employment documents, maintenance records, and trip logs could be recovered from the bus driver's employer. If their employer is a city or school, additional documentation and accident reports could be available.
Of course, the forms of evidence that are available in all vehicle collision claims can also apply to bus accident claims. There could be a police report of the car accident, witness accounts, and video footage taken from traffic cameras. Many public buses also have cameras installed inside the vehicles, so that footage could be useful as well.
In your claim, our Brooklyn bus accident attorneys may be able to utilize evidence such as:
The police report
Video footage
Trip logs
The driver/company's accident history documents
The driver's application or information from previous employment
Get Started with Your Free Case Evaluation
If you have been injured in some kind of bus accident, please make sure you contact the authorities to initiate an investigation. If you were a passenger on a bus, you will want to make sure all relevant witnesses are interviewed before leaving the scene. Make sure you are treated for your injuries, and then call us. We have obtained millions of dollars for past clients and are prepared to get you the maximum compensation possible.