Brooklyn Bus Accident Lawyers
Contact an MTA Bus Accident Law Firm if You Were Injured
Millions of people in New York City use the public transportation system every day, including the MTA bus system. If you have been injured in a bus accident, you may be entitled to file a personal injury claim to compensate you for your pain and suffering. The Brooklyn bus accident lawyers at Belushin Law Firm are experienced in handling all types of personal injury claims and can assist you with your case. Since 2002, our legal team has recovered millions of dollars for our clients.
Common Causes of Bus Accidents in New York
In addition, sometimes pedestrians, bicyclists, and other vehicles are struck by an MTA bus. If you have been injured in any of these situations due to a bus driver's negligence, you are entitled to file a claim to compensate you for your pain and suffering.
Bus accident injuries occur for many different reasons, including the following:
Buses strike another vehicle, particularly another bus
They hit a stationary object
Reckless driving or poor roads, causing passengers to be thrown around, even at low speeds
Bus drivers may injure passengers who are trying to board or exit the bus if they are not paying attention in operating the doors
Pedestrians, cyclists or people in cars can also be the victims of a bus accident
Proving the cause of an accident is critical to proving liability. If you've been seriously injured in a bus accident, get the legal help you need by contacting an experienced attorney.
Who is Liable in a Bus Accident?
There isn't a one-size-fits-all answer to this question because each accident is different. Determining who is responsible for an injury is critical to recovering damages. In New York, there are a number of potential defendants who could be held responsible for a bus accident, including: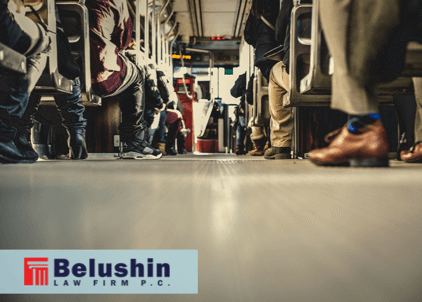 Bus driver
Other drivers
Maintenance companies
Manufacturers
Management companies
City and state governments
As you can see, there are a number of complexes factors that go into a bus injury claim, but with the help of an experienced New York attorney, you can ensure that you recover maximum compensation.
Responsibility of the Bus Driver
Bus drivers have a responsibility to their passengers and other drivers, cyclists, and pedestrians. They are required to operate the bus in a careful and cautious manner, without putting anyone's safety at risk. There have been cases of bus drivers being distracted or intoxicated or using excessive speed to try to meet their schedule. The MTA is responsible for their actions and is required to compensate you if their employees acted negligently.
Get Started with Your Free Case Evaluation
If you have been injured in some kind of bus accident, please make sure you contact the authorities to initiate an investigation. If you were a passenger on a bus, you will want to make sure all relevant witnesses are interviewed before leaving the scene. Make sure you are treated for your injuries, and then call us. We have obtained millions of dollars for past clients and are prepared to get you the maximum compensation possible.